Community & Economic Development Initiative of Kentucky (CEDIK)
Community & Economic Development Initiative of Kentucky (CEDIK)
CEDIK's mission is to catalyze positive change to build engaged communities and vibrant economies.
Vision
Empowered people. Thriving communities.
Overview of Organization
CEDIK's work extends to all areas of the Commonwealth of Kentucky. The scope of CEDIK's programming is vast: from youth programs and downtown revitalization, to rural community health and arts engagement.
CEDIK offers a suite of services for community and industry stakeholders needing research-based information.  Our experienced research team in proficient with several proprietary data sources, methods of analysis, and GIS mapping capabilities.
CEDIK has several staff and faculty members (Agricultural Economics, Community and Leadership Development and Landscape Architecture Departments in the College of Agriculture, Food and Environment) regularly working with Kentucky communities and organizations.  The programs and services listed on our website are just a snapshot of common requests; please contact us if you have a project you need assistance with that may not fall under our listed programs.
Goals
Provide research and information that supports community and economic development.

Build the leadership and organizational capacity of peoples and communities.

Support community decision-making and collaborative initiatives.

Facilitate partnerships and networks that enable communities to thrive economically, physically, and socially.

Sustain CEDIK's organizational capacity to efficiently and effectively accomplish its mission and vision.




Contact

Shane Barton

Email

Website

Social Media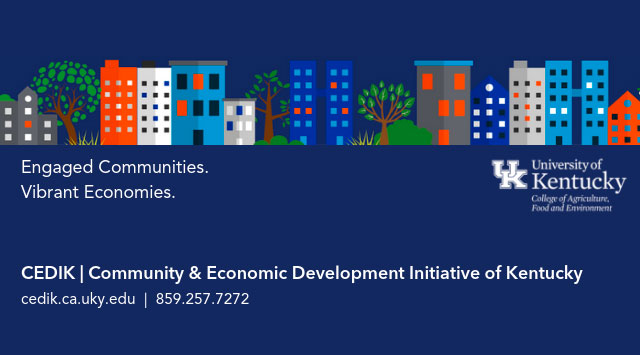 CEDIK
419 C.E. Barnhart Building, Lexington, KY 40546